Applus+ IDIADA is a member of the consortium for the H2020 ADAS&ME project focusing on the development of adaptive Advanced Driver Assistance Systems. Beginning in 2016 and coming to a close in 2020, the project encompasses a number of future transportation use cases. These involve automated long-haul truck journeys, motorcycle touring, assisted bus driving, a battery electric car, and a conventional automated car – all of which are at the core of services offered by IDIADA.
ADAS&ME aims to combine the knowledge of the evaluation of driver state alongside situational and environmental assessment to manage specific interaction strategies. These include both vehicle user interface and automation system functions, with the intention of ensuring safer and more efficient roads for all users. This works by offering systems that aim to mitigate the effects of adverse driver states on the ability of the driver to safely control a vehicle. IDIADA has led the evaluation stage of the project, first involving development of a framework for data collection and testing protocol, and after involving realisation of the evaluations – testing with naïve driver participants across the different vehicle types involved in the project. IDIADA's Human Factors specialists led the evaluations, providing valuable insights into the behaviour and performance of test subjects.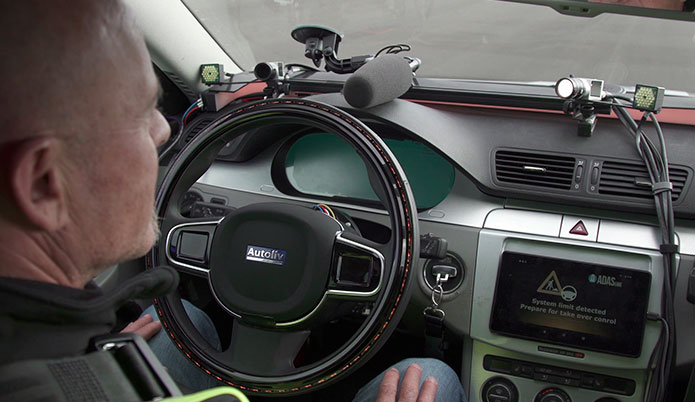 Prior to the commencement of evaluations, IDIADA engineers managed technical integration of the test vehicles in preparation, whilst also providing assistance for prototypes during the final data collection phase. This was carried out at the HQ evaluation site, and at other remotely located partner facilities throughout Europe.
Final evaluations were held at IDIADA, using different specific facilities to meet the requirements of the demonstrator vehicles and testing activities. Among others, the newly inaugurated ADAS and CAV test track was used for controlled testing of prototype automated control systems in conjunction with the ADAS&ME developed functions. In a first for IDIADA, public road testing was made possible through collaboration with the Catalonia Living Lab, providing a highly representative real-world environment for the final evaluations.
The project final event was successfully held at IDIADA HQ on the 3rd of December 2019, with attendance from 80 delegates representing a wide range of automotive industry organisations. As part of the day's events, dynamic demonstrations of the ADAS&ME concept vehicles took place on IDIADA's proving ground, alongside a technical exhibition displaying the project outcomes. This provided an opportunity for presentation of the project achievements, whilst allowing partners and clients the rare opportunity to view the IDIADA test track facilities in action.
As the project moves into its final stage, IDIADA is continuing its involvement as part of the project impact assessment activities. This comprises investigation by our Human Factors team into the potential effects on future transportation users in terms of their safety and mobility – all to be published as part of the final project outcomes in 2020.