THE Applus+ SOLUTION
Functional Safety support throughout the development cycle:
With experience throughout the V-cycle, we offer solutions for all phases of the development lifecycle, including the management, design, implementation, verification and validation of automotive Electric and Electronic (EE) systems according to the ISO 26262 Functional Safety standard.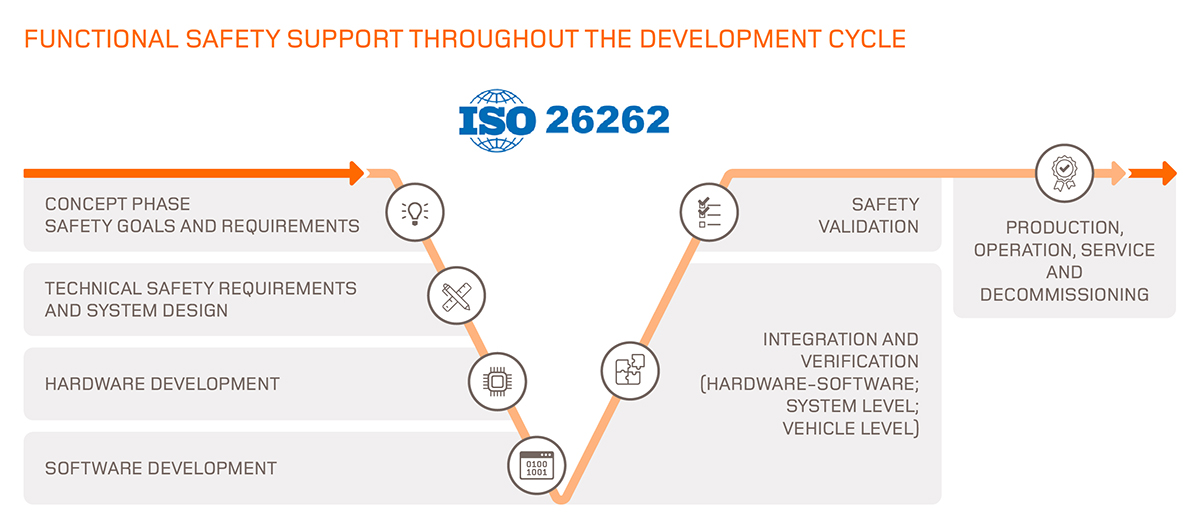 IDIADA's Functional Safety services cover all applicable vehicle types, including cars, buses, trucks and motorcycles. Our Functional Safety experts work closely with your team to ensure efficient and effective application of the ISO standard. This will usually be a blend of remote and onsite working.
Services include:

Gap analysis of your systems and work products against the requirements of ISO 26262
Development and delivery of functional safety work products
Review and update of your safety management procedures
Performing audits and independent reviews
Training
Safety management:
IDIADA works with clients in a Functional Safety Manager role to help them move towards ISO 26262 compliance at both project and organizational level. IDIADA can work with clients to create and/or update procedures, processes and guidelines to align them with ISO 26262. Our specialists can conduct a gap analysis and recommend next steps towards compliance. IDIADA can also act as an independent reviewer, auditor or assessor.
Concept phase:
IDIADA has extensive experience at the concept level, delivering work products at each stage of the process.

Development at system level:
The IDIADA team has been delivering automotive solutions at system level for over 20 years. Our experts can work with your team to undertake the safety analysis and deliver a technical safety concept with technical safety requirements to match your system.
Development at hardware level:
Our specialists provide support for hardware design ensuring safety mechanisms and hardware reliability metrics are met.
Development at software level:
Software development support services include the definition of the software safety requirements, software design, unit testing and integration with other software units, as well as reviewing existing software specifications and design.
Item integration and testing:
Our item integration and testing services cover the integration and verification at hardware/software, system and vehicle level, together with calibration and optimization.
Delivering Functional Safety, SOTIF and Cybersecurity as an integrated service: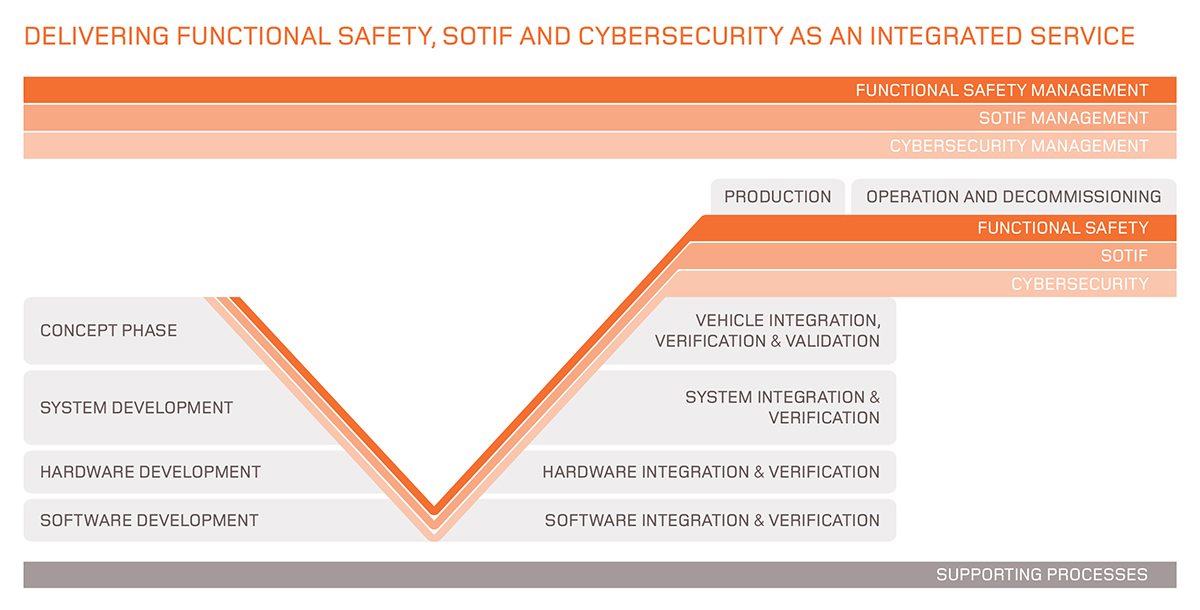 In addition to Functional Safety, the IDIADA team can deliver both Cybersecurity and SOTIF (Safety Of The Intended Functionality) services. This joined-up service is aimed at reducing the effort required to ensure the systems covered are both safe and secure.