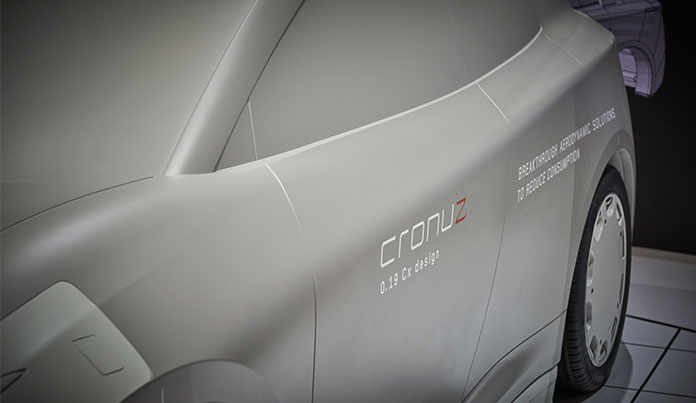 The CRONUZ was developed from a blank page to fulfil best-in-class aerodynamic values thanks to the seamless cooperation between Applus+ IDIADA's teams of aerodynamicists and designers. That cooperation allowed the upper body to be optimised while retaining the design concepts. This electric SUV concept car incorporates breakthrough aerodynamic solutions, including active and passive aerodynamic enablers that focus on key areas such as the wheelhouses and underbody.
Aerodynamics innovation
Within the CRONUZ Project, various rockers and fairings were investigated, achieving a potential improvement of 11 drag counts. This force reduction is achieved mainly by reducing forces on the wheels and increasing base pressure via reduced wake intensity. Assuming that the rocker and front fairing could break the design line, we decided to develop active systems for these parts.
Since the wheel wells and underbody could be responsible for 40% of aerodynamic losses, they also had high potential for improvement. Design action taken in this area included optimising the rims and underbody wheelhouse covers end that they interact perfectly with the extended rockers and front fairings and therefore minimise air circulation in the wheelhouse. The improvements made to the wheelhouse covers and rims have led to a potential reduction of 44 drag counts.
CRONUZ design features
The design team's objective was to create a minimalist aero design concept resulting in a pure and elegant form, with surface and volume solutions leading to a Cx of below 0.2. The main design features include emotional surfaces, a streamlined design form, steering laser headlamps, progressive-brightness OLED stop lights, a dynamics active cooling system/grille and an integrated driving-mirror camera.
Final assessment in wind tunnel
A full-scale model was used for testing the vehicle configurations and enablers with better CFD performance, as well as confirming the accuracy of the CFD aerodynamic forces. The best-performing vehicle configuration provided a Cx value of 0.19.
Detailed flow measurements were also taken in the wake to validate the simulation set-up, including mesh discretisation, turbulence modelling and wind tunnel representation.
CRONUZ technical specifications
| Compact electric SUV (C class) | 1 electric motor per axle |
| --- | --- |
| 4 seats | Lightweight BiW: 200 kg |
| Dimensions: 4,415 x 1,819 x 1,536 mm | Skateboard battery pack platform: 200L |
| Wheelbase: 2,720 mm | Closed under-hood with active grille shutter |
| Ground clearance: 177 mm | Rear-view cameras |
| Low-friction high-efficiency 195/55/R20 tyres | Intelligent lighting system |