The automotive industry has enjoyed a fast transformation in the area of connected and automated vehicle (CAV) capabilities. This transformation has taken place thanks to a combination of innovative R&D activities and the availability of small-sized, high-powered computing modules. As a consequence of this rapid transformation and the connected complexities of these respective systems; vehicle testing is no longer limited to the physical structure of an individual vehicle, but now external influences (connectivity messages, other traffic, road layout) are playing an increasing role in vehicle testing.
To support complex, innovative projects, extend testing capabilities and bridge the gap between them, Applus+ IDIADA has developed a vehicle on-board unit (OBU), which can be used independently or integrated into a vehicle's electronic architecture. IDAPT (IDIADA ADAS Platform Tool) is a multi-purpose, flexible prototyping and development tool for Connected and Automated Vehicle activities. This tool encompasses several individual CAV components into one single unit with one single power supply, allowing easy installation and removal from a vehicle.
IDAPT embodies 25 years of automotive electronics design experience based on high-reliability and high-volume production systems. The modular design of IDAPT allows components to be exchanged according to functional requirements, in order to tailor it to a particular activity. IDAPT makes it possible to retro-fit connectivity features into non-connected vehicles for R&D purposes, such as V2X, 4G Cellular and GPS.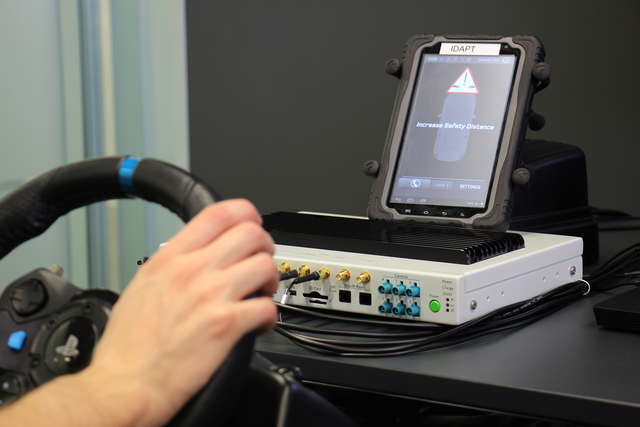 This tool combines the best features of a PC and an automotive ECU, integrating a variety of components for CAV activities in one single in-vehicle unit:
NVIDIA based, high-performance GPU/CPU
Independent automotive safety MCU
V2X
4G / LTE cellular
GPS / IMU (with support for RTK)
6 x Camera interfaces
7 x CAN interfaces
Internal battery
Automotive grade I/O
2 x Safety relays
Wake on ignition, wake on power and wake on RTC (Real Time Clock)
Internal battery (independent power supply)
BroadR-Reach
Wi-Fi / Bluetooth
IDAPT is currently being used on a number of Innovative CAV projects including:
MuCCA

, a project supported by Innovate UK, which will develop a next-generation driver aid that aims to avoid multi-car collisions on motorways.
SecureIoT, a platform which receives, validates and stores information from the vehicles.
VRAIN a new system based on cooperative communications that will enable enhanced safety and advanced management services for our clients in our proving ground.
With this new, highly practical implementation, we expect to contribute to technological progress in the automotive world, specifically in the development of connected and automated vehicles, one of the most rapidly transforming sectors.