CAVWAY is part of a central UK government initiative by the Centre for Connected & Autonomous Vehicles (CCAV). Overall, the initiative provided £100M of government funding which was match-funded by industry to create a network of testing sites across the UK to support the emerging industry for connected & autonomous technology. The aim is to put the UK at the forefront of these new developments and to create a world-leading suite of facilities at the heart of the UK's automotive and high-tech industry.
There are six separate consortia, comprising 38 companies in total, constructing and operating a range of facilities to cover all aspects of CAV development, from closed/controlled proving grounds (such as CAVWAY) to public areas in London and Coventry. These new facilities are being co-ordinated by Zenzic to ensure smooth interoperability as well as to provide joined-up marketing and business development both within the UK and internationally.
CAVWAY is the first automotive proving ground to be constructed in the UK in 50 years and is located just east of Oxford, at the heart of the UK's automotive industry and also at the centre of the CAM TestBed UK group of facilities.

A customisable connectivity network with all radio technologies
CAVWAY will offer facilities that concentrate on highway intersections within a fully controlled and connected environment. This will allow clients to test their vehicles in many different intersection scenarios, in order to develop their product to meet future needs.
There will also be an extensive connectivity capability with full V2X, Wi-Fi, 4G and 5G networks. These private networks allow us to control the connectivity environment across the site so that we can help customers evaluate how their vehicles will react in many controllable, but extreme, connectivity conditions. As a result, it will be perfect for testing both vehicle connectivity and cybersecurity scenarios.
CAVWAY's test track facilities for conventional and autonomous vehicle development
IDIADA hasn´t had access to a vehicle test ground such as CAVWAY in the UK and so it is also planned to include test track facilities that will be of interest to conventional vehicle test and development teams. Therefore, we also hope to attract customers looking to test regular vehicles and vehicle systems, such as braking testing and drive-by-noise testing, to name but two.
There will be a phased approach to investment, but overall, the plan is to include the following facilities:
Highway loop – a 3-km-long track that offers, not only a test track for vehicle testing, but also a variety of highway junction scenarios along its length.
ADAS 1 – a large area, built to strict criteria on quality and flatness, will be available for testing ADAS systems.
Interurban loop – introduces more features for testing autonomous vehicles, but can also be used for conventional vehicle handling testing.
Raised platform – this feature introduces a raised area so that autonomous vehicles can be tested on slopes, significant for simulating motorway junctions.
Braking slopes – a number of slopes, some with split

µ (mu)

capability, will be available for brake testing.
Intersection platform – this large area of asphalt will have multiple entry roads so that many different types of junctions can be represented in a flexible way. It will be possible to introduce T junctions, roundabouts or even traffic lights onto the platform. The facility will also double up as a dynamic platform for vehicle performance testing.
ADAS 2 – a second ADAS platform will be built once demand justifies construction.
Obstacles track – a small track that is designed to provide further features, junctions and obstacles for testing autonomous vehicles and systems, but can also be used for low-speed vehicle handling.
Motorway straight – a long straight to simulate a motorway or major highway that will be ideal for various straight-line testing requirements, including lane deviation technology.
In addition to the testing facilities listed above, there will also be extensive customer workshops and on-site electric vehicle charging stations.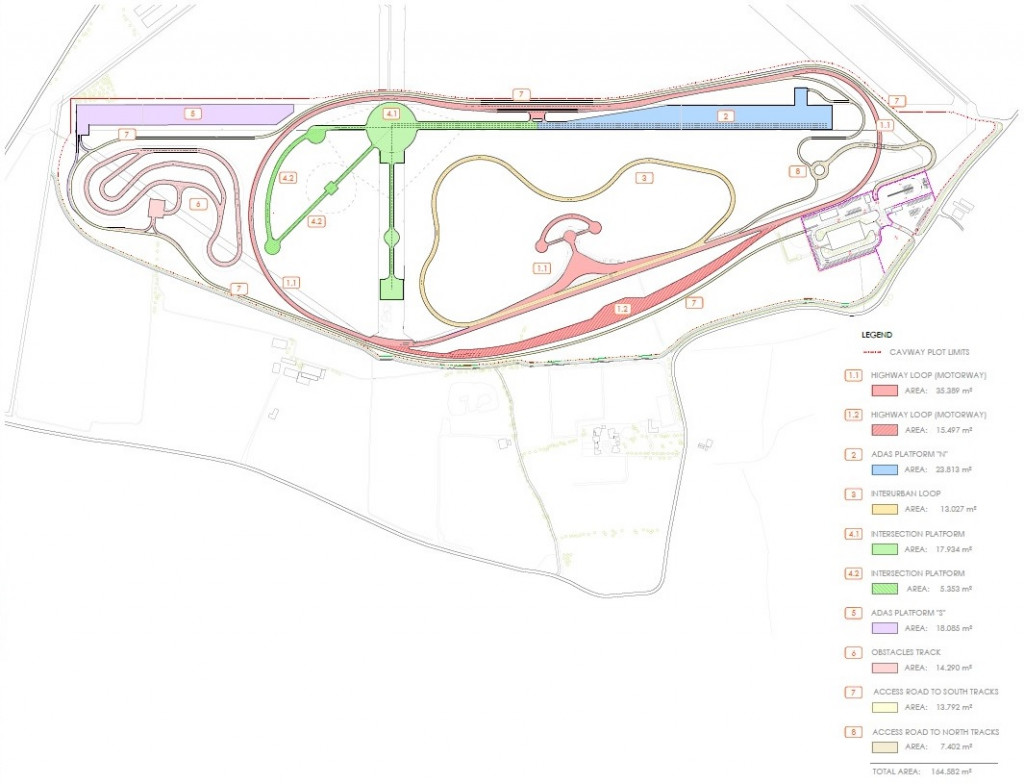 Increasing IDIADA's range of automotive engineering solutions in the UK
The facilities provided by CAVWAY will be key to further develop some of the existing engineering services provided by IDIADA in the UK, such as ADAS development and homologation, and will improve both flexibility and competitiveness in this country.
CAVWAY will be constructed to match IDIADA's exacting standards and its running will be based on the operational experience achieved in the facilities at our HQ in Spain and our more recent experience in China.
The vision is for CAVWAY to become the first-choice location for members of the automotive & connectivity industry to perform reliable, repeatable testing for a whole variety of complex CAV scenarios. In addition, CAVWAY is first and foremost an automotive proving ground. We anticipate that, with the backing of IDIADA, CAVWAY will grow to become a key location for engineering, development and testing of new vehicle technologies for many years to come.